Larry Hohol is the author of the new book, "The Luzerne County Railroad". A story about corruption in the American judicial system, the book will shake you to your core. Each chapter will leave you amazed by the new depth of brazen greed and corruption. If you think it couldn't get any worse, the next chapter will prove you wrong.
If you care about freedom and equality in America, you must read this book!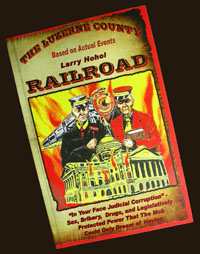 Order Larry's book now!

Only $19.95

Plus shipping. Sales tax for Florida purchasers.

Larry Hohol
the Author of
"The Luzerne County Railroad"

Born in 1956 in Luzerne County, Pennsylvania
Wyoming Valley West High School 1974, Kingston, Pennsylvania
United States Air Force (Strategic Air Command)
109th Field Artillery (Combat Medic)
Emergency Medical Technician (8 Years)
Pennsylvania State Police Academy for Municipal Officers
Police Officer: Luzerne, Pennsylvania
Founder/Owner:
Pensee Medical Corp.
Penox Technologies Inc.
Penox Leasing, later known as Leasecor Inc.
Cryco Cryogenics Inc.
Hohol Marine Products
Accurate Fence Solutions
Awards:
Wilkes-Barre Chamber of Commerce "Businessman of the Year"
Governor's New Product Award 1st Place (Engineering) State of PA.
U.S. Patent # 4,909,545 Cryogenic Coupling
U.S. Patent # 4,783,969 Cryogenic High Flow, Heat Exchange Manifold
U.S. Patent # 4,747,172 Medical Device Transporter (Emergency)
The previous list of patents were also awarded in nine other countries.
Special Achievements or Positions:
Represented President Reagan on an official trade mission to Taiwan
Provided direct consultation to His Majesty Juan Carlos, King of Spain regarding "Durable Medical Equipment", deployment and reimbursement programs into private homes throughout the country of Spain
Attended: Harvard University's by invitation only Young Presidents Organization Program.
Personal:
Married to the former Alice Clem from upstate New York
Two daughters:
Michele, Austin, TX
Sarah, Kingston, PA
Memberships:
Present and Former:
Florida Marine Contractors Association
Volusia Manufacturers Association
DeLand Chamber of Commerce
Wilkes-Barre Chamber of Commerce
Benevolent Protective Order of the Elks
Young Presidents Organization, YPO
Secretary of the Back Mountain Police Association
Personal Milestones:
Self made millionaire by the age 27
Self made multi-millionaire by the age 28
Employed over 500 full-time employees, conducted over $50 Million in business based in Luzerne County