Larry Hohol is the author of the new book, "The Luzerne County Railroad". A story about corruption in the American judicial system, the book will shake you to your core. Each chapter will leave you amazed by the new depth of brazen greed and corruption. If you think it couldn't get any worse, the next chapter will prove you wrong.
If you care about freedom and equality in America, you must read this book!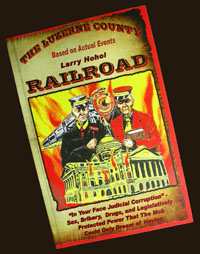 Order Larry's book now!

Only $19.95

Plus shipping. Sales tax for Florida purchasers.
Book Reviews
of the new book about
"In Your Face Judicial Corruption"
"The Luzerne County Railroad"

The Luzerne County Railroad
Book Review
by
Nancy Swan
"The Luzerne County Railroad is not the historical account of a railroad, it's the present day true story of a massive "Judicial Train Wreck." Unlike scholarly critiques of U. S. judges and our judicial system, The Luzerne County Railroad is so readable that it was hard for me to put the book down. In telling his story, the author, Larry Hohol, made me feel as if he were sitting in my living room personally giving me the details of his incredible journey.
Hohol began by telling his "rags to riches back to rags" story, drawing both himself and me as the reader, into a judicial system that is clearly out of control. He demonstrates that judicial corruption doesn't occur in a vacuum. Real people, real families, and entire communities are directly affected by this form of corruption and this aspect of his story is an important part of his book. It made me want to absorb every last detail of this sordid tale. The reader discovers each wrong committed by the court is more outrageous than the prior, while all along you are left still hoping you can arrive at a destination that ends in justice and accountability. One of the most striking aspects of this book is how Hohol backs up each and every allegation of judicial corruption with actual court documents, exhibits and un-recanted newspaper reports. This corruption happened in plain sight with tens of thousands of citizens who were watching the court's every move. Hohol accurately refers to this phenomenon as, "In Your Face Judicial Corruption."
At the close of The Luzerne County Railroad, I could not help but imagine that had injustice of this caliber been inflicted through a judicial system on the citizens of any other country of the world, U. S. leaders and the world media would have been so outraged as to demand an end to the corruption in that foreign land. This injustice is real, it is here, and it is happening today to an uncountable new crop of judicial victims. For all of the things that The Luzerne County Railroad is as a book, unfortunately one thing that it is not, is the end of the corruption. If you read but one non-fiction book in the next year, I highly recommend it be this one."

Book Review
by
John Plucenik

If there was a "Business Hall of Fame" in Luzerne County, Pennsylvania, there would probably be a bronze image of Larry Hohol in it. In the early 1980s, Hohol saw a need for specialized portable oxygen systems. He invented them, was awarded numerous patents, and built a company - Penox Technologies, Inc. - that sold his products to countries throughout the world. Hohol was only in his twenties when he did all of this. He has employed over 500 people and infused tens of millions into the Luzerne County economy.
Hohol was honored by President Ronald Reagan and sent overseas to share his knowledge with foreign business leaders as well as the Vice Presidents of foreign countries and even the King of Spain.
The former dirt-poor, small-town cop took his dreams from his garage and built a multi-million dollar, multi-national empire in a matter of a few short years. Just as quickly, Hohol could be the poster-child for victims of corruption in the Luzerne County Courthouse. His quick rise from rags to riches, and back to rags, was meteoric.
It was the 2009 arrest of Judges Michael Conahan and Mark Ciavarella, and most importantly Judge Michael Toole, at the Luzerne County Courthouse that prompted him to write his book, "The Luzerne County Railroad." The book has 46 chapters and over 300 pages, but is an easy read in one sitting. It took me three hours. I simply couldn't put it down.
The beginning chapters of the book describing his rise to success are a marvel. Those that follow detailing his down fall are downright tragic. Hohol sold his company and was building another when he was blindsided. The company he sold out to decided to stiff him and use the court system to do it. That company hired a local attorney who was a "lifelong" best friend and former law partner of a certain Luzerne County judge. Hohol's adversaries had deep pockets and drained him dry in legal expenses over a five-year period. This happened despite the fact that Hohol already had a prior lawsuit by the same people ruled in his favor, by a different judge, and upheld by the Superior Court of Pennsylvania, covering the same allegations.
Needless to say, he lost the second case. He also lost his house, his cars, his money and even his wife. If you expect to read an old story written by a bitter victim seeking therapeutic closure, you'd be wrong. Until now, his story is relatively unknown to the many young people of our community. Others amongst us remember it vividly as his story was the focus of dozens and dozens of newspaper articles and special reports.
This book should be required reading for any prospective entrepreneur, business student, business owner, or any person who ever walks into the Luzerne County Courthouse for anything other than a tour. Hohol reminds readers throughout his book that the story is not really about him. It is a story about a system of corruption that local people face every day.
This book is really two books in one. Hohol's personal plight is the first part, and the latter focuses on other victims of this corruption. For instance, in the later chapters Hohol details the firing of whistle-blower James Marinello and the web of corruption in local, state, and federal government that extends well beyond the courthouse.
If you are looking for a well-documented reason why we experience brain drain of young talent in our area, this is the only book you need to read.
While Hohol's literary skills may be blue collar, the remarkable story of his fight for truth and justice bleeds through on every page. This book clearly illustrates that many Luzerne County judges do not make decisions based on law, but rather on their own set of personal destinations. Hohol's book details the complete lack of accountability judges enjoy and abuse regularly. It is full of actual court documents and correspondence. Due process? Not in Luzerne County. Want to complain about a bad judge? Forget it. The powerful people that you complain to are just as crooked as the ones you are complaining about and they will hurt you even more for speaking up. That environment exists to this day, according to Hohol. Pennsylvania's Judicial Conduct Board is still, for the most part, made up of politically appointed cronies. Hohol is not afraid to name names.
The author clearly demonstrates how cowardly and unethical lawyers can operate on both sides of the courtroom. Don't expect your own lawyer to back you up against a dirty judge or a bad judicial decision. Why is it, do you think nobody blew the whistle on Conahan and Ciavarella earlier? Local attorneys know they make a living facing these judges and are quick to throw a client under the bus to insure their future livelihood.
There are also a number of great back-stories in this book. Hohol illustrates how local non-profit organizations provide cover for a culture of corruption by allowing unethical attorneys on their boards. He also speaks of the arrogance of the judicial system towards free press. This book also sadly shows how helpless the general public is to change things, even with all the facts before them in black and white. Most disturbing are the echoes of the condescending attitude and utter contempt of Luzerne County judges, officials, and attorneys towards common Luzerne County citizens.
The book has some printing flaws. Small type on photo-copied newspaper articles and dark, highlighted sections make it a difficult read at times. That being said the quality of the content shines through. Hohol will be addressing readability issues on future reprints. This book is a fact-filled read that will leave you angry and wanting to sharpen your pitchfork. Despite his experience, Hohol still believes things can change.
He is wise enough to know that to change the economic climate of this depressed area you must first change the culture of corruption that has found a home here.
He believes that the time has come. Based on the recent housecleaning of corrupt local judges and politicians, as well as election results, his timing may be perfect.
Only time will tell if this book makes a remote difference in changing the culture of corruption that exists to this day. But it is a start. Hohol is not done highlighting Luzerne County corruption. He has just begun. This 1974 Wyoming Valley West graduate has started his second book highlighting the many corrupt players that he has researched in the past decade since he moved to Florida in 1999. The "Kids for Cash" scandal will be the focus of his next undertaking.
Hohol is a true patriot, without even firing a shot in any battle, in any war.
He is a First Amendment patriot.
His weapon: The Pen.
Sleep well, Larry.
The dark clouds of Luzerne County corruption are miles away.
Enjoy the warmth of Florida.
You deserve it.
… and keep writing.