Larry Hohol is the author of the new book, "The Luzerne County Railroad". A story about corruption in the American judicial system, the book will shake you to your core. Each chapter will leave you amazed by the new depth of brazen greed and corruption. If you think it couldn't get any worse, the next chapter will prove you wrong.
If you care about freedom and equality in America, you must read this book!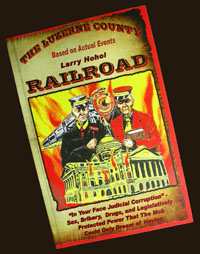 Order Larry's book now!

Only $19.95

Plus shipping. Sales tax for Florida purchasers.
Comments from Readers
of the new book about
"In Your Face Judicial Corruption"
"The Luzerne County Railroad"

"Larry Hohol has performed a service by explaining how unchecked power and personal relationships in the courts can lead to unjust results with devastating consequences. His story, as well as other scandals that have recently come to light, serves as a wake up call for the need to reclaim our judiciary. Our courts must guarantee equal protection for all, not just the well connected, powerful few."
- Curt Schroder
Pennsylvania State Representative
155th Legislative District

"A MUST READ for anyone who cares about equality and fairness under the law. Riveting, well documented and, oh so very real from start to finish."
- Attorney Robert Surrick

Former member of the Pennsylvania Judicial Conduct Board (JIRB)
Pennsylvania Supreme Court Candidate
Author of "Lawyers, Judges and Journalists-The Corrupt and the Corruptors
Recipient of the "Public Service Achievement Award" as presented by Pennsylvania Common Cause

"The Luzerne County Railroad should act as a wakeup call to all those concerned about the direction of our Judiciary. This book is well written and kept my attention every step of the way. Spending 12 years of my career with the Bureau investigating corruption was a real eye opener for me. The author's plight and tragic outcome is a far too common story that can happen anywhere in the United States. Don't assume things will get better by themselves as time goes on. Assume they will get worse and do something about it if not for yourself, then for your children. I highly recommend this read."
- Rick M.
Retired FBI Agent


"Think of the worst nightmare you ever had in your entire life. As bad as it was……. you woke up. Every single solitary day of the author's life he can't wake up. Everything that was taken away from this man and his family through the corruption of the Judicial System in Pennsylvania is still gone. Since reading this book, I have had trouble wrapping my emotions around his story. I have had serious problems voicing my feelings as my heart does not want to believe this could possibly happen in my America. This book has changed my life. I am now afraid of my own government."

- Barbara T., DeLand, FL


"I received your book today, I started reading it and just couldn't stop. Cover to cover. I hardly ever read an entire book but it was riveting. I have plans to pass it on to another who works in the DA office of the courthouse and who was previously in the Sheriffs dept. He is a lifelong friend and I can't wait to hear his take on this from the inside. I hope to see more people go down on this corruption around here. It's absolutely unreal what these people in positions of power do. I knew it was bad but never imagined it could be as bad as you described. Great job! Your book has all the evidence right there. An excellent read!
I would love to see you scan all those documents and put them up on your site for easier readability, some were just impossible to read in the book due to quality.
I hope things are going well for you. I am sorry to hear what happened to you. Relax - I am pretty sure the worst is behind you!"
- Frank B


"After thirty-plus years as a prosecutor in New York City and State, I thought I had seen it all. But reading
The Luzerne County Railroad
by Larry Hohol lets me know that my battles with corrupt politicians and other criminals barely scraped the surface. In the absence of the evidence presented in his book, one would have to ask: Could this possibly be true? After reading the book, one needs, instead, to ask: Can this level of corruption possibly be tolerated?"
- Attorney Edward Rothman
Special Prosecutor
New York State Attorney Generals Office (Retired)

"I thank you for your courage and tenacity in writing your book, thus shining light on the corruption in the court house and state government. I was also raised in the area and heard many rumors about the county legal system. I suspected but didn't know how corrupt the entire Pennsylvania legal system is until I read the details in your book.
I believe your style of writing is right for the purpose of this book. Since you state the events which are supported by newspaper articles and finish with your conclusions - making the facts easy to follow. Thanks again for your courage. I'm looking forward to your next book."
-John Dukes


"This book is OUTSTANDING and WELL WRITTEN!!!! I could not put it down and have people waiting in line to read it. I now have much better insight as to corrupt judges and the inner workings of our Luzerne County Courthouse. GREAT BOOK!"
-Carol D.


Your book is shocking and at the same time inspiring to me. We often forget as human beings that corruption exists and is at the core of the destruction of humanity. I will be sure to expose this pathetic yet powerful force as much as possible.



-Richard A. Singer Jr.




Author, Psychotherapist, Assistant Professor




Author of: Your Daily walk with the Great Minds, Eastern Wisdom for Your Soul, Daddy, What is Success?, Unintelligent Humans...

,

Now: Embracing the Present Moment, In Process: Kids for Cash

I just finished your Luzerne County Railroad book. It's an incredible story. I hope you sold the movie rights to somebody good (The Godfather - Part ?). I'd pay to see that film.

-Tom

Mr. Hohol's book is a must read for everyone - because there is probably a 50% chance someone in your family will be victimized by our failing judiciary system somewhere along the way. He offers a preponderance of evidence- that our legal system has been perverted into a commercial entity for the bar associations across America. Mr. Hohol writes in a journalistic style that is a quick and easy read. There are some great lessons to be learned from his book...primarily that we need to take back our country from an oligarchy populated by attorneys. People are having their homes stolen from them by a self-regulating judiciary - with no checks and balances. Yes Mr. Hohol.... this is not what our founding fathers had in mind for our country and it needs fixing!

-Diane Gochin